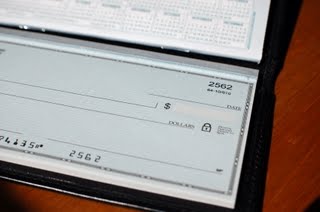 Before you choose a checking account, check to see what kinds your bank of choice offers, and the fees associated with them.
Banks do want your business, and many still offer gifts as an incentive to open an account with a sizeable deposit. Others offer gifts if you promise to use their online services to pay bills. But don't let the gifts make your decision. Check services and fees first.
A basic checking account is fine for most people. But look out – they don't pay interest and they may charge you if you write more than a set number of checks per month or impose a fee if your account balance dips below a certain dollar figure.
Free checking generally means you can write all the checks you want and let your balance fall to a dollar without paying fees. But you'll pay hefty fees if you have an overdraft. You may also pay fees for other services such as check cashing, account inquiries, and debit card purchases.
Interest-bearing accounts usually require a minimum balance to open and require you to maintain a minimum balance. If you dip below that balance, the fees could far outweigh the low interest rate you'll get in return. This account is usually not worth the trouble.
Express checking accounts are geared toward students and others who don't want to spend a lot of time on transactions. Most business is conducted on line or by telephone or ATM. Most charge a fee if you decide to visit the bank and speak with a live teller.
Senior and Student Checking Accounts give special treatment to students and those over 55 years of age. Benefits include free checking, free cashiers and travelers checks, and even discounts on such things as prescriptions and travel expenses.
Money Market Checking Accounts are for people who can maintain high balances and who will need to write only a few checks each month. It pays more interest than basic checking or savings accounts while keeping funds easily accessible.
Business Checking is the most expensive, with fees per item deposited and per check written.
Before deciding which checking account you need, examine your own habits. For most a free checking account is the best choice – and of course seniors and students should take advantage of the special treatment banks offer to them.
But if you have sizeable reserves and want to have them instantly available, an interest bearing account or Money Market Account could be the right choice for you.
Other fees you should watch for are:
Abandoned account fees – if you let an account lay dormant for 3 to 5 years, the bank will hand your money over to the state – but not before deducting a sizeable fee.
Account maintenance fees – some banks charge a monthly fee no matter what.
ATM fees – You could pay on both ends for use of an ATM not associated with your bank. That $100 withdrawal could easily end up costing $106 – $110!
Debit Card Purchases – Have been without additional cost, but a growing number of banks are imposing fees for each purchase. Saying "credit" instead of "debit" at the check-out counter might transfer the fee from you to the retailer.
Check printing – Most banks charge for printing, but a few accounts do offer free checks. Sometimes checks through the bank are far more expensive than those you could order on line.
Counter checks – if you run out of checks and have to get a few from a teller to tide you over, most banks won't charge, but some will.
Bounced deposits – If you deposit a check and it bounces, your bank may impose a fee.
Author: Mike Clover