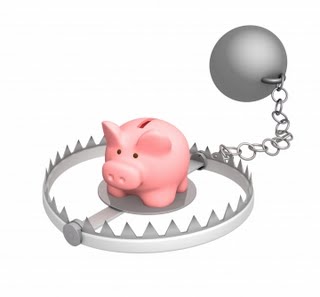 You've no doubt been told about the crash in 1929 – when the banks closed and depositors were just out of luck. Back then there was no FDIC to insure your deposits, but now there is, so the threat is not so dire.
Still, FDIC only insures up to $250,000, so if you have more, you should spread your accounts between different banks.
Hopefully we'll never have another widespread crash. What consumers deal with now is one bank failing. In that instance, one of three things should happen:
• Another bank takes over the complete institution
• The bank's insured deposits are transferred, but loans and uninsured deposits ae left to the FDIC
• The FDIC takes over until a buyer can be found
You've read about the JP Morgan takeover of Washington Mutual – no branches closed and the acquiring bank merely took over. Much the same happened when Bank of America acquired Countrywide.
Here's how some of your services could be affected if your bank fails:
• ATM's – Transactions should go through, but posting may be delayed. Keep careful records of what you've done.
• Automatic payments – should be made on time, but do check rather than assume
• Checks – All should be normal. If the new bank plans to make changes to your account, they should contact you.
• Insured deposits – the acquiring bank will take these and continue with the same interest rate you were receiving.
• Uninsured deposits – NOT a good idea! The acquiring bank may take them or may not. Right now the ratio is about 50-50, so don't take chances.
• Brokered Deposits – also can be risky. Talk with your broker to make sure your deposits are not in the same bank with your other accounts – thus pushing you over the $250,000 insured limit.
• Dormant accounts – Use your accounts regularly, as accounts not used for 18 months will be turned over to your State.
• IRA's – These are ensured and will be turned over in their entirety.
• Loans – Loans may be acquired or held by the FDIC while a new buyer is found. This is done on a case by case basis. If you're in the midst of a construction loan, you will probably be able to continue with scheduled draws.
• Online banking – Banks that fail close on a Friday, and the new bank or FDIC officially takes over on Monday morning. Online banking would not be available over the week-end.
• Overdraft lines of credit – should not be affected and will be taken over by the new bank.
• Night deposit boxes will still accept deposits for posting on Monday.
Unless you have uninsured accounts or dormant accounts, the biggest disruption in your banking services will be the inability to do business over the week-end. Banks usually open on Saturday will be closed and on line services unavailable.
Author: Mike Clover
CreditScoreQuick.com your resource for free credit reports, credit cards, loans, and ground breaking credit news.