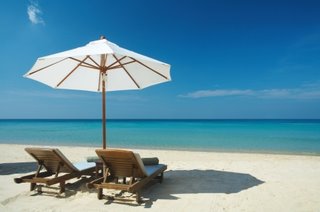 Credit cards and debit cards are handy tools when you want to assure yourself of a room at your vacation destination, a best price on an airline ticket, or a car waiting for you when your flight touches down.
But before you whip out just any credit or debit card, be aware of what will happen next, and how it can affect both your cash flow and your credit scores.
When you book a room and give your credit or debit card number, most hotels will immediately check to see that you do have the credit or the funds. That's reasonable, isn't it? The next step may also be reasonable, but can be detrimental to you.
Because they want to be assured that they'll be paid if they hold your room and you turn out to be a "no show," they then place a "hold" on an amount equal to the expected charges for your stay. If you call and cancel within their specified time frame, they'll release the money, but meanwhile, it's as if you've already spent it.
Gas stations and rental car agencies use the same practice, and some car rental agencies check your actual credit report each time you rent a car – placing numerous credit score-damaging inquiries in your file.
So be careful. It makes sense to book a room early if you're traveling to a popular destination, or if you have an opportunity to get a reduced rate on your room or your airline tickets, but choose a little-used credit card – one that you don't use for day to day purchases. If possible, choose a card with a large credit line, so that your hotel reservation doesn't use up more than 30% of your available credit.
If you use your debit card, get the exact amount that they'll hold and write it into your check register as an amount already spent. Otherwise, you could be faced with returned checks, overdraft fees, and a bad stain on your credit report.
Reservation clerks will tell you not to worry – your card won't be charged unless you fail to show up. Then you'll have the option to use the card or pay by another means once you get there. And that's true.
But in the eyes of your banking institution, your credit card issuers, and the credit bureaus who determine your FICO scores, a "hold" is as good as a charge. It reduces your available checking account balance, or reduces your available credit while raising the percentage of credit usage to credit available.