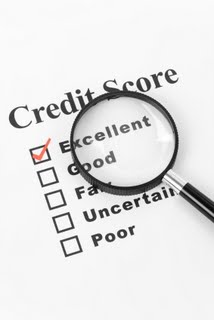 Now that the market is flooded with more job seekers than there are jobs, employers are using credit reports as a way to eliminate some applicants.
At one time credit checks were only required for government jobs or positions that could involve handling significant sums of money. Now, according to a 2004 survey, more than 40% of all employers use credit checks. This is up from 25% in 1998, and it's likely to be higher today. As the pool of job seekers gets larger, more employers may have turned to this method to thin down the applicants.
Some believe that employers are using this method as a thinly veiled manner of discrimination – calling it "proxy discrimination" Employers claim that it is merely due diligence on their part. If a person has poor credit it could signify poor judgment, unreliability, and a greater threat of on-the-job theft.
In reality, people are being turned down for jobs that have nothing to do with handling money. Job counselors argue that poor credit does not diminish a person's skills.
Whatever the reason, using credit checks against potential hires creates a lose-lose situation. Those who have been jobless the longest are the ones most likely to have gotten behind on payments. They won't be able to improve their credit scores without a job, and can't get a job without a good credit report.
Federal law requires potential employers to get permission before obtaining a credit report on a potential employee, so those faced with diminished credit scores might want to check policies before making a fruitless application.
The good news, at least for the jobless in some States, is that lawmakers are starting to recognize the problem and take action.
In Washington, under a law that took effect in 2007, the applicant's credit history must be substantially related to the position. Last month Hawaiian lawmakers approved a similar measure. Hawaii also restricts employers from checking credit prior to making a job offer. Meanwhile, in California Governor Schwartzenegger vetoed a similar law.
Lawmakers in Michigan and Ohio have not taken action yet, but have proposed prohibiting employers from using credit history against a job applicant. At this rate, it could be a long time before all employers are prohibited from using poor credit scores as a way to deny jobs, but at least they're moving in the right direction.
On a Federal level, the Equal employment Opportunity Commission is likely to issue guidelines on the proper use of credit checks. The bad news is that they're merely guidelines. Employers aren't required to comply.

Author:Marte Cliff
CreditScoreQuick.com your resource for free credit reports, credit cards, loans, and ground breaking credit news.