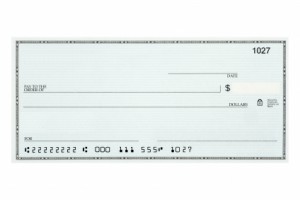 Does your bank offer free checking accounts? You should take advantage, but be aware of the added fees that could add to your costs.
Banks offer different varieties of "free" accounts. Some offer free checking as long as you maintain a set balance in the account. With this type of account, some of the other bank services are also free. For instance, cashier's checks, counter checks, and use of a debit card.
With the account that doesn't require a minimum balance, you may pay extra for those services. You need to consider how often you might need to use those services before opting for the free account. For instance, if the bank charges a monthly fee of $6 but a fee of $7 for a cashier's check and you need 2 or 3 of them every month, you're better off paying the monthly fee.
Some bank fees can be easily avoided by good bookkeeping practices. The insufficient funds fee is a prime example. This can be as high as $39 per instance, so failure to record a $100 check and then writing subsequent insufficient funds checks for $10 or $15 could cost you plenty.
If you always play it close to the wire and your bookkeeping skills are imperfect, consider paying for overdraft protection. Remember that repeated overdrafts will not only drain your money, they'll harm your credit scores.
ATM fees can also add up. Generally, if you withdraw funds from your own bank's ATM, there's no fee. But if you find yourself short of cash when you're away from home, you could be hit with a fee as high as $5 per transaction for using a different bank's ATM. Again, planning and bookkeeping will come to your rescue.
If you know you'll need cash for a night on the town – get it while you can go to your own bank.
Other fees your bank might charge include:
• Coin counting
• Providing a credit reference
• Charging you for depositing a check that bounces
• Replacing a lost ATM / debit card
• Assisting with account research – helping you see why your records and the banks' don't match
Once upon a time, the only choice you had to make when opening a bank account was the color of your checks. But those days are gone. Now you need to compare the offerings in order to make a good choice.
Thus, before you open any account, ask for a schedule of the fees related to each type you're considering. Then consider how you will use the account. You may be better off in the long run if you use an account with a minimum balance, or with a pre-set monthly fee.
Author: Mike Clover
CreditScoreQuick.com your resource for free credit reports, credit cards, loans, and ground breaking credit news.