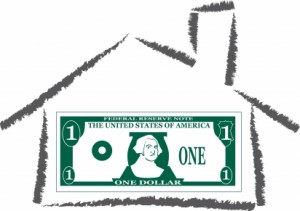 If you are an investor or a would-be investor with a high credit score, you do have a chance at finding a loan. And of course, with prices at near rock-bottom, now is the time to invest in residential rental real estate.
First, you need a good sized down payment. Since mortgage insurance won't cover investment property, you need 20%. But if you can come up with 25% or more, you'll stand a better chance of getting the loan.
To get good rates – and perhaps to get approval at all – your credit score must be 740 or higher. A score of less than 740 will mean you'll either pay points or a higher interest rate.
On top of the down payment, you'll need money in the bank for reserves. The bank will want to see that you have enough to pay for all your expenses – including personal expenses – for 6 months. If you own multiple rental homes, the bank will want to see that you have sufficient reserves to cover all of them. This protects their interests and lets them know that you'll still be able to make the payments in the event of vacancies.
All that sounds pretty daunting for an investor just starting out, but a couple of alternatives do exist.
First, try your neighborhood bank instead of one of the big players. They may have an interest in building the community, and they'll definitely have a better idea about the wisdom of your investment. Local people know the local market. Additionally, if you have a good reputation to go with your good credit scores, they may be more agreeable to helping you.
Local mortgage brokers will also help you more than a loan officer at a large bank. Not only can they access bank funds from many sources, many know of private investors who may be willing to help.
Another way to get private financing is through websites such as Prosper.com and LendingClub.com. These sites match investors with individual lenders.
A final choice is owner financing. This was very popular back in the 80's when mortgage interest rates were high. Then it fell out of favor because almost anyone who could fog a mirror could get a loan – sellers didn't need to carry paper.
Now it's coming back into practice as even good, creditworthy buyers are unable to get loans from the big banks.
If either private money or seller financing appeal to you, your job with be twofold. First, you'll need solid documentation that the investment is a good one. Second, you'll need to "sell the lender on you." Individuals who lend money to other individuals want and need to know that they're dealing with someone who is worthy of their trust.
Author: Mike Clover
CreditScoreQuick.com your resource for free credit reports, credit cards, loans, and ground breaking credit news.