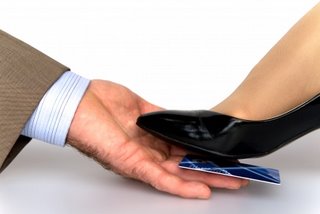 Credit card issuers looking for new customers routinely order "soft inquiries" on citizens who have not requested credit. Unlike "hard inquiries," these inquiries in to your credit report have no effect on your credit scores.
They're simply out there "fishing" for people with good credit so they can send offers to apply for their credit card. These offers will include low introductory rates, rewards, and even gifts for making application.
Companies with which you already have credit will go looking to see if your credit is still superior before they send you cash advance checks with letters suggesting that you really do need a vacation or a new wardrobe.
They also fish for people with poor credit and credit problems, so they can offer a different kind of credit card.
They know that most of us need a credit card at one time or another – when shopping on line, for instance. So they'll send an offer for a card with a low credit limit, a huge annual fee and a staggering interest rate.
Some of these are the "fee harvester" cards whose gouging techniques have now been reined in by the Credit Cardholder's Bill of Rights of 2009. At the present time, the initial fees charged to gain a $250 credit limit can reach upwards of $175!
When the new law goes into effect, they'll be limited to charging 25% of the card's credit limit in fees during the first year.
You trigger some of this snooping…
Often, those who aren't sure about their credit scores will allow a car dealer or a furniture store to check their credit report – just to see if they can extend credit to them. This is a poor idea, as it triggers a "hard inquiry."
"Hard inquiries" do have an effect on your credit score, so you should not use this method to learn your scores, and instead should take care not to give out your personal information until you're sure you want to ask for credit from a particular merchant.
Your credit report will show the inquiry – it won't show if you were turned down for credit or simply decided to keep shopping because that merchant didn't have exactly what you were looking for, or because you couldn't agree on the price of a car.
There's no longer a reason not to know your own credit scores before you go shopping. You can get your credit report with scores, right here, for FREE. Do it today.
Author:Marte Cliff