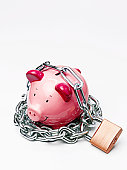 It's not hard to see that our country is in turmoil currently. You can't turn on TV without hearing about people loosing there jobs, gas prices being high, recession, foreclosures, and banks going out of business. I figured with this article I would give some tips to protect you and your family's credit report. This is probably one of most important times in our history of credit, to make sure you are saving and your credit score is secure.
Personal Finance
A economic downturn could affect your personal savings, investments, and even your job. There are precautionary measures you can take to survive such events.
• Cut back on expenses that are unnecessary, such as cable TV, eating out, frivolous spending, etc……..
• Save 6 months worth of salary in savings account.
• Reduce your Home owner's insurance policy, shop around for better premiums.
• Reduce insurance costs on your cars.
• Bargain shop for food, clothes, etc….
These are some savings tips that will help you financially with our current economic downturn that we are going through.
Refinance your 15 yr Mortgage
Over the years a 15 yr mortgage might of made since, but of course you could of paid off your mortgage just as quick on a 30 yr mortgage without the pressure of a 15 yr amortized payment.
Equity in your Home
If you currently live in a home and you have equity you might consider tapping into some of the equity for cash on hand. It would be much harder to get a home equity loan if you lost your job.
Rebuilding your credit
If you have had some bumps and bruises, such as a bankruptcy, foreclosure, late payments or collections you don't have to suffer for the next 7 to 10 yrs. Immediately after such credit issues start rebuilding your credit with secured credit cards. Make sure you have good rental history and save as much money as possible. You really need at least 3 lines of credit reporting, so if you can get 3 secured credit cards I would recommend applying for them.
Tax Refund
If you are receiving a tax refund this year make sure you put that towards a debt with high interest charges or into a interest bearing emergency account.
Housing
If you are having issues making your mortgage payment or concerned about a foreclosing on your home here are some number to contact that may be able to assist you. Also make sure you communicate with your current lender as well.
• Home Ownership Preservation – 888-995-HOPE
• Housing and Urban and Development – (888) 569-4287
CreditScoreQuick.com