Could your credit report be a racist report? We all know racism is a problem in the U.S., but of course no one wants to admit it. Is it possible that when calculating your credit score your result was lower because of the color of your skin, or because of your sex? Do the Credit Bureaus even know what race you are, or your sex? These are some interesting questions that need to be answered in this article. The following does not determine your credit score according to MyFICO. MyFICO is the inventor of the FICO score that 90% of banks use to determine your creditworthiness.
The following does not determine your credit:
Race, Color, Religion, national origin, sex and martial status
your age

Your salary, occupation, title, employer, date employed or employment history

Where you live

Interest rates currently being charged on any account

Any items reported as child/family support obligations or rental agreements.

Whether or not you are participating in a credit counseling of any kind.

Any information not found

in your credit report.

Any information th

at is not proven to be predictive of future credit performance.

Certain types of inquiries (requests for your credit report).
US law prohibits credit scoring from considering these facts, as well as any receipt of public assistance, or the exercise of any consumer right under the Consumer Credit Protection Act. It is good to know that your credit report is calculated on other factors.
Below is a good example of how your credit score is calculated.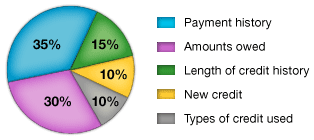 Now you can see how credit reports are not predjustice, they calculate your credit based on the information provided in the pie chart above.
Don't forget to learn what creditors already know. If you are in the market to make a purchase you might consider getting your free credit score report. That way you know what they will find out.
CreditScoreQuick.com