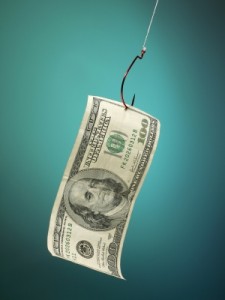 The first thing to do this year with regard to credit is to read your credit report, learn your scores, and look for errors or signs of identity theft.
If you have credit cards you want to maintain high credit scores to prevent your credit limits from being lowered. Thus, your credit score is important even if you don't plan any major credit purchases in the near future.
So get any errors corrected right away. And of course, if there's any suspicious activity such as a balance on a card you haven't used, a change of address you didn't ask for, or an employer you don't know – look into it immediately. Those are signs of identity theft.
Next, pay down your holiday purchases, because your card issuer could decide to hike the rate on your existing balances between now and February 22, when the new laws go into effect.
While the CARD Act is beneficial to consumers in many ways, it has promoted credit card issuers to think of new ways to profit. So be on the lookout for new fees, and keep an eye on your rewards points.
The new law left credit card issuers with the right to scale back their rewards programs and to make it more difficult for you to redeem their points. Thus, the best course of action is to redeem your points as soon as you have built up enough to do so. Be sure to read all the literature regarding those points, because some banks, such as Citi, have made changes that include an expiration date on points. If you don't use them, you lose them, so hurry up and use them.
Interestingly, even while the banks are working to improve their own profits, they're offering some free on line tools to help you improve your own financial situation.
These free tools include spending analysis tools and payment plan creation software that can help consumers set budgets and track their own spending habits in order to make necessary adjustments.
One caution, however. Some of these free benefits come with fine print. If you sign up, you could be opting in to a fee-based service that kicks in after an initial trial period of 30, 60, or 90 days. So don't say "yes" until you've actually read the terms of service.
Remember, when you opt in you'll check the little box that says you read them – if you don't, and those terms spell out a monthly fee, they won't feel obligated to reverse any charge they apply to your account.
Author: Marte Cliff
CreditScoreQuick.com your resource for free credit reports, credit cards, loans, and ground breaking credit news.